HAVE A QUESTION ABOUT TPMS OR WHAT THIS MEANS....
THEN READ THIS BEFORE ASKING. MOST LIKELY YOUR QUESTION IS ANSWERED HERE!
I have seen people asking about the Tire Pressure Monitoring System when buying new rims. I have called a rims place and they said something about adding sensors for an extra 70 bucks. DO NOT BUY NEW SENSORS. Your sensors will transfer over to the new rims. All you need is a new snap in valve stem specifically designed for that sensor.
The only reason you would want to buy new sensors is if the sensor is bad. I do not think you can have two sets of wheels (ei summer and winter wheels) and each set have their own set of sensors. I doubt the VT can read eight different sensors. The only time a sensor has to be programmed is when replacing sensors. Leave that up to the dealer or a shop who has the right equipment to perform that type of services. I know Costco can. But we aren't like most tire shops.
Other than that, just buy the new valve stems for the new wheels. I know you wouldn't be changing out the tires or valve stems yourself, but you can give the valve stems to the tire shop because they might not have them or they might try to sell you new sensors. Basically, they would just dismount your stock tires from the stock wheels, remove the screw on the bottom of the valve stem that holds the sensor on the valve, remove the sensor from the valve once the screw is removed simply by sliding it off (it would just fall right off). Then you reinstall the sensor on the new valve stem with the screw that was provided then pop the valve stem back in the new wheels.
DO NOT reuse old valve stem! You will need new valve stems every time you swap the TPMS onto a new rim. It even says so on the sensor itself.
This is what your sensor looks like connected to the snap in rubber valve stem. It consist of three parts. The valve stem, the sensor, and the screw that secures the sensor to the valve stem. (oh and the valve cap, but you can use whatever valve cap you want)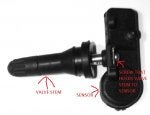 When buying valve stems, this is basically what you get, though yous might come with a different valve cap.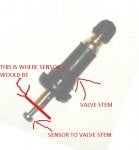 Costco sales VS-950 Dill for $2.99 each. this is exactly what we sale and we do torque the screw to manufacture specs and relearn the sensors for you too is needed.
You can buy these on ebay for about 10 to 15 bucks for the set.
Also, know what it means if your TPMS blinking just on solid? When your TPMS light is blinking, that means there is something wrong with your TPMS system. Blinking could mean a sensor is broken either physical broken during install or the battery is dead, but the batteries should last about 7 years. the same life span as a watch because it is basically the same battery. or your dash, for whatever reason, can not read the physical sensor in your rims. The original TPMS sensors do not need to be relearned UNLESS you replacing the TPMS sensor.
Now if the TPMS light is on solid, more than likely you need to just check your air pressure. You can look at your driver side door sticker and it tells you what size tires you need and how much air it needs. I do not own a VT yet so I do not know at hand. But I would say 35psi is good. And if it doesn't go off still I would I wouldn't inflate them no more than 38psi.
UPDATE:
I got these from work. these are not private. But might be hard to get a hold of.
Here lies pictures, part numbers, and a lot of info for you and a relearn procedure. This is very technical but you can take these and cross reference with your shop and maybe give them a good idea of what they are looking for and what they need to do.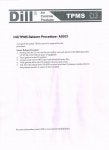 Pretty much everything you need to know is here about tpms. if you are having trouble ask here and I will relook at this post and adjust to make sure whatever you didn't get will be answered here. Maybe I will have a Q&A here too.