First I'm giving Marathon veloster reference credit for starting this sticky in performance
. The OEM instruction portion is invaluable. But it was evident to me that guys are doing the work,..but not doing a complete service. i.e. changing the fuel filter.
How to remove fuel pump [IN TANK]/ Re-Install Fuel Pump VIA HYUNDAI MOTORS
1.
Release residual pressure (Open gas cap)
2.
Remove rear Seat(s)
3.
Remove the fuel pump service cover (A).
Name: Service Cover.gif Views: 225 Size: 4.7 KB
4.
Disconnect the fuel pump connector (A).
5.
Disconnect the fuel feed tube quick connector (B) and the vapor tube quick-connector (D).
6.
Disconnect the fuel pressure sensor connector (C).
7.
Remove the plate cover (E) after removing the bolts.
Name: Fuel Pump Remove.gif Views: 225 Size: 14.1 KB
8.
Remove the fuel pump from the fuel tank.
Name: Fuel Pump Remove1'.gif Views: 225 Size: 10.0 KB
Fuel pump plate cover installation bolt :
2.0 ~ 2.9 N.m (0.2 ~ 0.3 kgf.m, 1.4 ~ 2.2 lbs
The screen sock and the internal bucket are only 40 % of the "filtering process" our Low Pressure Fuel Pump set up has.
The FILTER is the primary safety gap. If you have removed the assembly and cleaned it out great, but you didn't CHANGE out the Carbon filled filter assembly there is still compacted garbage built up by use until now.
***In our case half the suspicions of fuel system failures is gunk from a sloppy manufacturing process getting into the filter system and making it out eventually filling/clogging the fuel system/HPFP/injectors.
So,..if this is you...go back buy a filter assembly and finish the job. Its a great feeling!
Clean out the sock,..YES,...clean out the tub,..YES,..but for Gods sake,...CHANGE THE FILTER!!!
The dis assembly process is straight forward. Take your time. Observe your connectors, understand them before you start yanking/twisting.
My cool ass service dudes at Ray Skillman Hyundai gave me warnings and pointers about shit they themselves have done wrong on this so PAY ATTENTION.:smile:
First, this is what you need to get.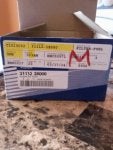 Here is what she looks like out.
This is the area that is full of a carbon based filtration media that you guys have been leaving out.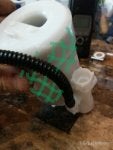 The following are shots covering O rings you MUST transfer from the old fuel filter to your new one. Failure to do so will result in evap faults CELs and poor running.
First the internal O ring that houses the actual LPFP that is inserted into the middle of the fuel filter assembly.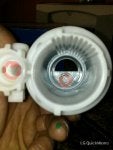 The second is on the outside of the cylinder, here it is.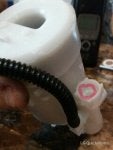 Now you have completely removed ALL debris and the possibility of old debris in your old media from migrating through and causing havoc. Oh and don't over tighten the fuel pump service cover bolts,..2.2 lbs??lol.
Even if you are one who has had an engine pop, and replaced. Do this service,..dealers are not that thorough.
TORKme has a LPFP direct replacement, when its available, get it! You're in here anyway!