Discussion Starter
·
#1
·
First off I'd like to say that the shipping and customer service was awesome. I purchased a Blue Stage 2 Dome light, White Stage 2 Map Light, and White Stage 3 license plate LEDs. It came nicely packaged in a tightly sealed orange envelope, and inside there was the receipt, information sheet, decal stickers and my 3 products wrapped nicely in brown paper.
I started with the License plate lights, pretty quick and simple installation. All you need is a screwdriver and it will just pop off, rotate the piece and it will detach, pull out the stock bulb and replace it with the Diode LED.
Make sure to turn the car on to test the lights before putting them back in the fixtures and snapping them back into place(If they don't light up just make sure they're in the right way, if not just switch it the other way)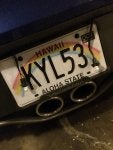 Nice and bright!
Next I did the Blue Stage 2 dome light, just pop off the cover with a tool, replace the bulbs...and done! I left it on the *door* option so it lights up when the doors open and close.
Before:
After: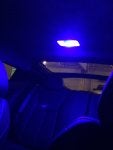 I did the map light last, once again the same installation process, but the stock bulb is a little harder to get out, I just used a screwdriver to nudge the end of the bulb to pop it out.
Left Side Stage 2 White LED and Right Side Stock
Big difference from the stock bulbs, lighting is much nicer and brighter.
Sorry for such a long dragging review with so many pictures, just wanted to share my experience with Diode Dynamics products. I am very happy with all of the mods and I'll be picking up the trunk light and vanity lights soon!