So I've had my car roughly a month. Bought it used with 3,000 miles on it. Got her for $18k with everything I wanted.
Meet Evey, as in E.V. Short for Elite (White) Veloster... A name that coincides with the female role in the movie V for Vendeta. So my little white Veloster's name is Evey.
As Purchased -
2016 DCT - VT - Elite White - Tech Package - Auto Dimming Rear View - Hub Locks
Immediate work done -
K&N Drop in filter
Here she is before I touched her...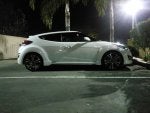 In the last week, I have stripped out all the tint and replaced it with limo all the way around including across the top of the windshield. A near must here in the valley of the sun
I replaced theturn signals with basic LED's (for now) and installed the load resistors. I used 3M so I wouldn't have to add any holes into anything.
I installed my OCC which was a little more of a pain than I thought it would be... but not difficult.
While I had everything torn apart, I decided to punch a few extra holes in the fender side of the air box.
I started on the 60MM TB upgrade and then this happened... cracked the damn thing tapping in the nipple. Pretty sure this one is trash... project is now on hold.
Debadged the rear end as well
EDIT - Forgot to mention that is disabled the active sound design as well, very happy about that too BTW.
Until next time... Hopefully I will have this 60mm TB figured out soon. The next round of goodies will be knocking out the 2nd cat (possibly replacing it with a Magnaflow straight tube), replacing the downpipe with a catless (I like the 845 product). and a lightened water pump pulley and crank pulley. At some point we will be bolstering the suspension and tunning.