Got some things that I no longer need!
Everything is negotiable or OBO
SOLD
- These are the extended Sly Skirts from Turbosocks in carbon fiber. Already drilled out and I had them on for about 8k miles. Holes are ugly but will be hidden when attached.
$120 - Sxth Element hot pipe. Only used for about 15k miles before I got a FMIC.
SOLD
- XWEK v1. Awesome kit that reduces electrical resistance which translated to a host of benefits. Ended up getting v2 so I don't need this anymore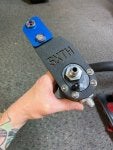 SOLD
- Sxth Element Single Can Catch Can (Radium version that mounts to strut tower). Comes with braided SS AN lines, check valve, and extension bracket (painted ice blue by yours truly
)
$40 - XPVS - Xenon Mac BOV Solenoid. While not in the pic, they do obviously come with the 3 vacuum fittings.
Also FS if anyone is interested:
OEM intercooler - $40. removed at 35k
OEM 57mm throttle body - $40. removed at 30k
OEM Intake assembly w/ new filter - $40. removed at 25k, filter is brand new
and all kinds of random OEM exterior stuff (reflectors, fog light assembly, exhaust and components, etc). lemme know if anyone is interested, I just want the space in my garage back