Hey guys, I just purchased some 2 Crave Mach 5's! They fit on the VT perfect, not as big as I thought it was going to turn out to be and looks just slightly larger then the stock 18s. It's also got a nice concave look to it, with the tire's being stretched just a smidgen. The vehicle is at stock height, and I do have intention's on slamming it.
Rim Specs: 20x8.5 +40 all around
Tire Specs: 225/30/ZR20 all around
Here's a pic of them I'll post pics of them on the car tomorrow, when there is sunlight.
Let me know what you think.
**************** UPDATE WITH PICS ON VT *****************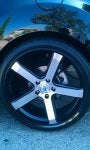 The ride quality is good just a tad bit stiffer as I can feel more bumps in the road...