Discussion Starter
·
#1
·
Ok, I know there are threads in the N/A area but some of you may not frequent over there..
with the GDi technology, combined with forced induction, the need for a catch can is amplified.
The reason being is that there is nothing to 'clean' the intake tract/valves anymore. These parts used to be cleaned by the fuel spraying. In a GDi engine, the fuel is sprayed directly into the combustion chamber, so the intake valves/ports don't stay as clean.
I have always been an enthusiast on using catch cans and after finding out the VTurbo is GDi even more for it.
Check out this article here:
GDI carbon buildup issue, and a solution « drivegeek
Now onto what catch can to use..
Of course there a bunch of different catch cans out there so it might be hard to choose what you want to get.
Before I go anywhere with this I would like to clear a couple things up. I would consider myself 'educated' about the topic and NOT an expert.
Also, ANY catch can is going to be better than NO catch can. The reason being, you will keep some oil/blowby from going back into the intake, even with a small, un-baffled, un-filtered can.
You may have seen catch cans all over ebay with their 'fancy' sight tubes, 'CNC machined' wording, 'TIG welded' (even though some have no welds) etc. and been like OMFG, must get CNC machined, tig welded can with a sight tube so I can constantly monitor the oil level. That is how they get people to buy their stuff, there isn't much point for any of this.
Are some catch cans better than others? OF COURSE. It all comes down to what you think is going to work for you, if you are modding your car extensively (creating more blow-by), racing the car, etc.
What I am going to recommend in this thread will be for 90+% of drivers who MAY increase their power output by 20% and spent most of their time commuting/spirited driving and not much on the track.
If you will be doing a lot of racing, adding a big turbo, running 250+hp you might want to consider a 'better' setup.
A lot of people have been recommending catch cans in the range from 75-200$ and I think that is absolutely INSANE.. Yes, they look good and yes, they will do a great job but you could save your self a bunch of money with VERY similar results.
The first ones I am going to suggest have been around for ages and work very well. The only thing you need to do is keep the filter element clean (clean it out every couple oil changes, or every oil change if you are accumulating a lot of oil)
I used this back in 2004 on my Turbo Tiburon and the entire time I had my '05 SRT-4 (2.5 years). I have also sold a few kits and customers have had great results.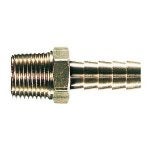 These are simple air filters for air compressors and cost from 10-22$ and include a very fine filter and a 'block off' to prevent oil flowing right from one end to the other.
You will also need NPT barbed fittings (~1$ piece) that match your hose size to hook these up.
I typically run them WITH the included filter, but some people run them without. It is arguable on how much you will really gain by having the filter installed or not. In theory, you will collect more oil and fluid if you keep the failter because the blow by that doesn't go through ends up condensing into liquid.
-Another good option is pretty much ANY ebay filter, with a few minor catch's like the ones below: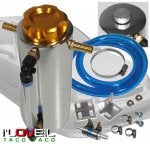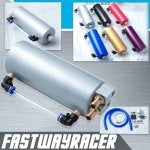 These will all work good, as long as they don't leak AND you take a couple extra simple AND cheap steps.
The 'ebay' cans don't include any type of filter or baffling to prevent the 'mist/vapor' from going right in the inlet and then out the other side.
This is where SS scouring pads and a .20 cent check valve come into play.
You may have read up on this already, but if not, I will explain.
When there is blow-by from the car it is typically a mist of various densities.
If it is a dense mist, once it gets in the can, gravity does its work, preventing it all from going further down the intake tract.
If it is a very light mist, most of the flow will go in one side and out the other, preventing the can from doing much good
Here comes the point of the SS (Stainless ONLY) scouring pads, NOT STEEL WOOL. Get a couple SS scouring pads and pull them apart a little bit but DO NOT make it a bunch of pieces (this will help prevent any slim chance of the pieces getting in the engine) Taking this step alone will greatly improve the efficiency of the catch can while costing almost nothing and taking 5 minues of your time.
This is where you can go a step further to help keep your mind at ease and not worry about any of the scouring pad getting into the engine. It consists of a VERY cheap check valve and a piece of FG screen (like from your screen door) and something to keep the screen in place (super glue). This will make it all but impossible for any steel to end up in your intake tract.
A piece of the screen will be glued in front of the catch can outlet. The holes in the screen are smaller than the SS pad strands so nothing will make it through.
The check valve would be placed after the can inline with the flow. This will prevent the can from being 'boosted' and ripping the screening off the inside of the can.
Both of these setups will work GREAT. You could probably skip the screen/check valve part but for those who are concerned about stray pieces of scouring pad (never heard of a single instance happening) this should ease your mind.
You could do a dual setup using either of the cans above and it would still cost much less than any of the 'engineered' or fancy catch cans.
I don't want to bash on any of these more expensive cans as they do their job VERY well, but there just isn't much practical purpose for them in the REAL world.
Some people will still want them because of the 'bling' factor or because they don't like to DIY things but other than that, there isn't a good justification (to me anyway) to go that route.
Either of the setups above will probably cost you a maximum of 35$ per can. This means you can set one up on your breather also (recommended as some vapor is vented through that location also) for less than 75$ and be assured that your intake tract will remain clean.
*As with any catch can setup, you will NEED to periodically check the level and empty the can. If the can is FULL, there is nowhere else for the vapor/oil to go and it WILL go into your intake tract*