Discussion Starter
·
#1
·
OK, so I'm not going to write up some long winded explanation as to what the p2261 CEL is, but lets just say that its caused by the failure of aftermarket BOVs not opening for the duration that our ECS want.
I installed TurboSocks SSQV (style) BOV at the same time that installed my 845 FMIC, and almost immediately I was beset by the curse of the weekly CEL. Fortunately I have the ability to reset it, so it's more an annoyance than an issue, but still. I should not need to clear out a CEL every 4 days.
I was desperately seeking a solution to this issue that would not require me to have my ECU re-flashed or some other electronic sillyness.
So, I started looking into the components of the current system...
The solenoid that controls the system looks solid enough. It functions as a diverter valve, feeding vacuum only when the system wants the valve open and when it wants it cold, it pushes air pressure from the intercooler (or cold-pipe in my case) to the valve. This is good, as this will improve the pressure against the valve (closing) while under boost.
Next is some tubing, and then the vacuum pump itself. The pump is cast into the intake manifold, a simple vacuum reservoir. I don't know how it's sourcing the vacuum, but i'm willing to bet it's just a simple check valve that is ensuring there is vacuum in said reservoir.
Looking at the unit, I began to suspect this was the culprit.
As it's not a constant feed of vacuum, the longer throw of the aftermarket valve will deplete the volume of vacuum (or whatever the correct measurement is) faster than the engine can empty the tank.
So to the fix!
If the cause is running out of vacuum, the solution is more vacuum.
Enter the aftermarket vacuum reservoir.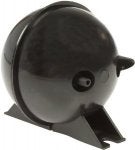 This is more-or-less what I got. The Dorman HELP vacuum tank, the one I grabbed was for a Caddy, and had the two nipples as I was expecting to route the hoses differently. If i were doing it again, I'd just choose the single nipple style.
To attach the tank into the system I was originally designing a wacky system with check valves and complicated hose routing. But during a moment of clarity, I realized that vacuum is more concerned with system pressure than with routing... so I tee'd that thing right into the feed line, between the solenoid and the factory tank.
Then I routed some line down to the tank.
Mounted the tank where it fitted.
And then button her all up.
I still on occasion pop my buddy, Mr P2261, but only now when I get stuck in extended bouts of stop-and-go traffic. But I'm down from every 4 days to once every 4 months. I'll call it a win!