Discussion Starter
•
#1
•
It was suggested to create a build thread since I was one of the first to get the 2019 Veloster Turbo. Here are some of the pictures I'd promised earlier: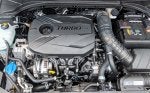 Got a few pics of the engine bay with the cold pipe/BOV and the J-Pipe (you can kinda see the electronic wastegate and downpipe). Let me know if there is anything else you want pictures of and I'll try to get some more tomorrow.
Also, I have been in contact with someone local who is affiliated with 845 Motorsports and I'm going to help create/test a super stock tune for the 2019 Veloster Turbo. We ran into a hiccup yesterday when we could grab the oem tune off the ecu, but we couldn't write a modified one back. Hopefully they'll work with the tuning software support to see if we can get it working.