Discussion Starter
·
#1
·
Hi all, just wanted to let you know that after looking at different kits, I opted to buy PrecisionLED's kit.
I paid $68 including standard delivery via USPS. Eight days later I received the package which included map, vanity, trunk, and license bulbs including the free tools. Super easy to install. Just watch the online video and you will have no problems. I did it in less than 30 minutes (going very slowly and carefully).
These are the pictures with the halogen lights:
These are the pictures with the LEDs installed: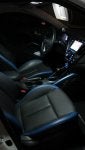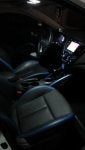 The map LEDs are a bit dimmer than the halogen bulbs, but they have a nice cool white light (6000K).
The vanity LEDs are very bright, more than the map LEDs which is good for checking yourself on the road. Plus you can use them to get more light in the cabin also.
The trunk LED is a bit dimmer than the halogen bulb, but also a nice cool white light. Enough to see what you are doing.
The license plate LEDs are bright enough with a cool white light, but one of the LEDs has an element that blinks changing from regular intensity to a higher intensity. Only one element of the bulb is bad, but the rest are OK, which is odd.
There are no boards in this kit, which is the main reason I chose it. The bulbs are very sturdy. The fit was perfect; had no problem installing them in the sockets. NOTE: The trunk light has a black backing that is hell to take off, but doable.
I am very happy with the kit. The LEDs give off a cool light that matches perfectly the instrument lighting and the blue trim on the seats. The sale team was very helpful with any question I had. I hope they will have sales on Veloster items in the future. Right now they have none! Hint! Hint!
I am sure they would love to be a vendor on this forum. Let them know you want them here.