Discussion Starter
·
#1
·
I saw that its been said that 3.5" would fit into the center speaker spot… well I didn't have a 3.5" but I had a 5" speaker.
Also for those with the D 450 watt system the center speaker says it is 2ohm.. I have read some saying it was a 4 ohm system.
The two metal clips slide off; take them off as you will use them on the speaker.
This just shows that the EOM speaker is rated at 2ohm.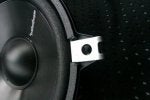 With pliers or a Gerber tool cut away a peace of the plastic ring as you can see it sets right into place an dose no damage to the speaker. Just take your time on this part an it be ok.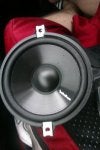 This shows both of them put into place
There is a lot of room in this area so you can turn the speaker sideways and the right side up and its setting inside the hole.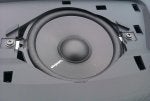 On this speaker as you can see there is a lip going around it as you are thinking (ok it's in there but how do you pull it up to bolt it into place) how? So with the Gerber or pliers grab one corner pull it up on an angle and tighten the screw slightly so it holds into place and do the same on the other side took me about 5 min on this part so not that hard as you can see a shaved a little bit away from the opening that was it won't hit the foam of the speaker.
Then set the cover back down on it and you're done, I was impressed with some tones that I hear now whereas I didn't hear before
I can't wait to do 6.5" from the rest of them!!!