2016 Hyundai Veloster Rally Edition
Hi everyone! I recently purchased a Veloster Rally Edition and found this awesome forum so I figured I would share my build and future plans. I've been taking a lot of information from here over the last couple of months because I know barely anything about Velosters or Hyundai in general (I owned and was building an EG civic for 12 years before buying this car).
I bought the car, salvage title, from my dad's repair shop on the west coast. The first owner did a whole heap of modifications and I'm still learning what all has been done by inspecting and taking it apart to work on it. Just a week before I flew over to buy the car someone keyed it so the paint has one long scratch that wraps 3/4ths the way around the car... I will eventually have it repainted (same color) but its a bit low on my priority list as the car has a few issues. The clutch has been absolutely trashed, the flywheel is warped and the transmission may have some resulting damage to it. I've already fixed quite a bit since I bought it and drove it across the country back home but for what I paid for it I'm not complaining. Its been a hell of a car so far. Pulls really hard... loud as shit... I love it!
I will keep editing this initial post with updates and continue to add posts on work that has been done with pictures, parts and whatever else relating to the build. For now here are a few pictures of the car after I got it home.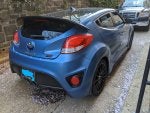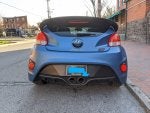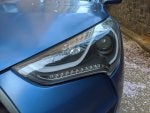 Now onto what I've done so far. (This will constantly be updated)
Maintenance / Repairs
:
Replaced the radiator fan assembly
Replaced the AC compressor and hoses
Replaced the clutch master and slave cylinders
Redline MT-85 transmission fluid
Cerma MT additive
Mobil1 full-synthetic oil
Straightened all four Ray's wheels (bent)
Performance Mods:


Injen SRI
HKS M45XL iridium spark plugs
Borla axleback exhaust
3" turbo downpipe
Carbon fiber rear spoiler
Spec-D headlights
Aftermarket clutch kit
Black vinyl wrap on the roof
EBC Green stuff brake pads
Pirelli P-zero Nero tires



Appearance Mods:


Mishimoto black weighted shift knob
Alla Lighting 3000K fog lights
Rallyarmor UR mud flaps
KSP 20mm f/r wheel spacers
G2 Gold caliper paint (after painting them I don't really like the gold so I'm going to go blue)
---------------------------------------------------------------------------------
Plans for the build
:
I am going for a clean-looking "street version of a rally car" build that is quick with good handling for my aggressive driving style. I'm kind of inspired by the Hyundai i20 rally car's looks. I drive the car daily to work (roughly 70 miles round trip, all highway) and run a small business from home so it may take a while to finish everything with barely any time to take it apart. I plan on doing as much of the work myself as possible, but I am not a trained mechanic so the more intense stuff (like the clutch replacement and transmission work) will be done at a shop. The first stage of work will be fixing the major mechanical and drivability issues while doing minor visual upgrades. Then I'll start getting more into the performance mods.
Appearance
:
Roadruns R grill
Front splitter with tie rods
OPT7 Aura underglow kit
HID upgrade (purchased, need to install)
Fix matte blue paint
Matte black trim
Powder coat wheels (satin dark graphite)
Custom rally pod light set, painted matte blue, based off of the i20 rally car (detachable)
Custom rear spoiler, matte blue or cf wrapped (I do like the one I have, but later on I might get a larger WRC style wing made)
Suspension / Brakes / Wheels
:
Stainless brake lines
EBC S9 brake kit f/r black slotted rotors
Pierce rear torsion bar
Pierce strut brace
Pierce front tie bar brace
BC racing coilovers or equivalent
Performance
:
Pierce performance clutch kit - top priority right now
Throttle body upgrade from Elantra
SXTH fuel pump feed kit
SXTH hot pipe upgrade
Borla cat-back exhaust
Tune by SXTH or Tork to my specs, aiming for around 275hp.