Turbosocks Performance, collaborating with, BTJetman, is pleased to announce the availability of functional hood vents for the Veloster AND the Veloster Turbo!
You can now go from this:
To This: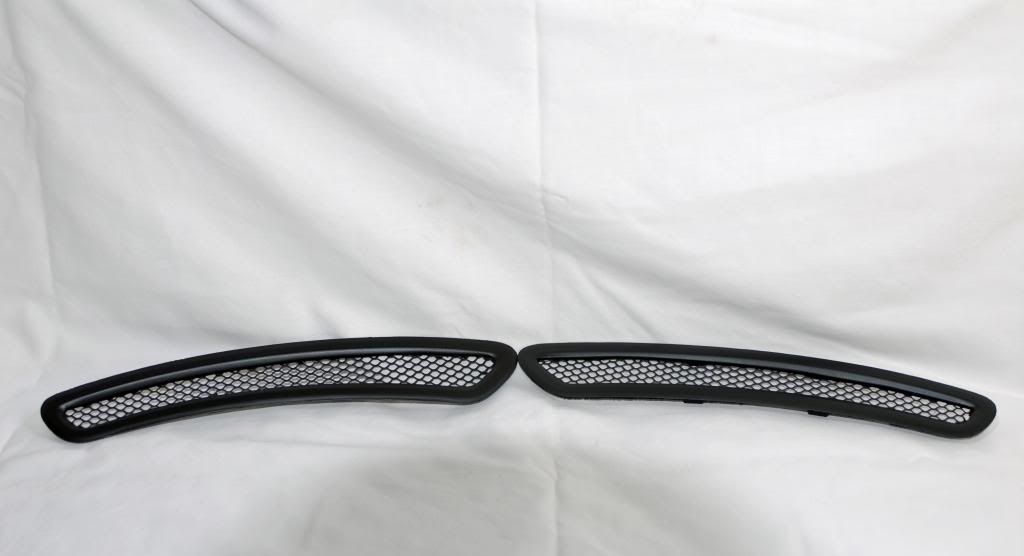 In about an hour.
Each vent starts as a new OEM part. The center is removed and then finished by hand. The grill material is cut and adhered to the back side of the vent with an automotive grade adhesive. The completed assembly is then prepped and sprayed with an adhesion promoter, then primed with an etching primer, with 3 final coats of automotive flat black paint.
The vents can be snapped back into place with no worries of them coming off. But, we go a step further; a thin, outdoor grade, high quality double back tape is applied around the edge to help to keep the vent secure. Also included is enough channeled foam edging to finish the cut edge of the insulation blanket, 9 new clips to reinstall the blanket, and complete detailed instructions.
"Sounds good" you say, "but won't water get in and do damage to something?" First, the engine compartment never has been waterproof. The components located inside have been designed to keep water out. Don't believe me? Take a look at the relay box; notice how the lid fits over the bottom part, no water is getting in there unless it comes from road spray. "Ok, what about the ECU?" you ask. It is located away from the vent, and the connectors are designed to seal out any moisture (weather pac). "But what about the right side, that vent is directly above the engine." You point out. This is true; the engine cover is designed to not only dress up the engine, but to protect the electrical components as well (Coils, HP Fuel Pump, etc.).
Still not convinced? Then maybe this mod is not for you. But if you are, then these vents are a great addition to your mod list and will help with evacuating the heat generated under the hood.
Price is $95 including shipping to the US. Prices outside the US will be higher due to increased shipping costs.
payments can be made to
[email protected]
as usual!
Usual list:
1. Hellhunter / Shipped
2. agentw0 / Shipped
3. TheDude / Shipped
4. timo / Shipped
5. Gunner / Shipped
6. Jason P / Shipped
7. Noeskape / Shipped
8. bruce e. (store order) / Shipped
9. VeeTee (PM Order) / Shipped
10. Scott P. Store Order / Shipped
11.Turbosocks Performance / Shipped
12. Swordfish / Shipped
13. Reaper7 / Shipped
14. 3Sxturbo (local order) / Completed
15. Pierce Motorsports / In Production
16. Rich P / Shipped
17. Matthew C / Shipped
18. Stephen M / Shipped
19. Michael K / Shipped
20. Travis W / Shipped
21. AZWhiteVT / Shipped
22. Robert A / Shipped
23. Kyle J / Shipped
24. Jamie E / Shipped
25. Kyle G / Shipped
26. Mike V / Shipped
27. Joe W / Shipped
28. Jonathan M / Shipped
29. Paul D / Shipped
Although this list is no longer kept up to date, I try to stay in touch with everyone that orders either through PM or by email. Last week (11/2013) I sent out set 51. Thanks to all for your purchases and continued support.