Hello Everyone!
Meet my car, Kaya is her name.
I will update this as much as possible, after every mod hopefully, but time is always a factor
.
First post is obviously the unadulterated version of my car, when I first picked her up.
You'll see old vs new in this one. Got rid of the WRX in lieu of my new baby girl, Kaya:
Then, it pretty much went very quickly like this.
Wheels and Tires upgrade, as well as all interior lights to stage 2:
Then I tried the BOV for Free sound thingy and knew I needed the real deal BOV, but I waited on that until a little later.
I waited because next up was the headlight swap, Turbosocks CAI and the NGM drop:
Next step, SOUND!
Now the car looked mean enough to swallow just about anything, hence the big mouth our cars have
. But the problem was it didn't sound like....uhm...anything, really?!
So, next up was the Magnaflow additions to the exhaust piping.
Magnaflow 10735 - Mandrel Bend Pipe Tubing
Magnaflow 10426 Satin Stainless Steel 2.5" Round Muffler
Make ABSOLUTELY sure that you get rid of the stock resonator if you put in these Magnaflow parts! It sounds waaaay loud with the stock resonator(IMO), and here is the reason why, it's a frigging straight pipe with insulating in it only, no baffles, no nothing!
Here is a sound clip of the car with the Magnaflow alterations. Sound is NOT great due to the usage of my phone instead of a proper mic:
I ended up opting for and going with the Magnaflow exhaust tips as well, for one, I like the look, and two, I was hoping that it would help spray the soot further back and not back onto the car. I have noticed less debris/soot on the car, so I am happy. Not everyone's cup of tea, but here it is:
Magnaflow 35121 Stainless Steel Round-Angle Cut Double Wall Exhaust Tip
Since the car was starting to look good and sound even better, it was now time for me to go after some of the driving and handling improvements.
First up, the Pierce Motorsports strut tower brace:
Also pictured is my first attempt at Plasti-Dipping and the CAI. Yes, the PD has held up nicely under the hood.
And the Pierce Motorsport 4 point brace for underneath the car:
2 things:
#1: ANYONE can install these suckers in a fairly quick time.
#2: AWESOMENESS happened immediately after install, meaning ride experience and handling has much improved.
FMIC anyone? Yes! Turbosocks FMIC to be exact. Oh and how much fun it was to install, lol. Nothing like a cold a$$ wintery day for an install night: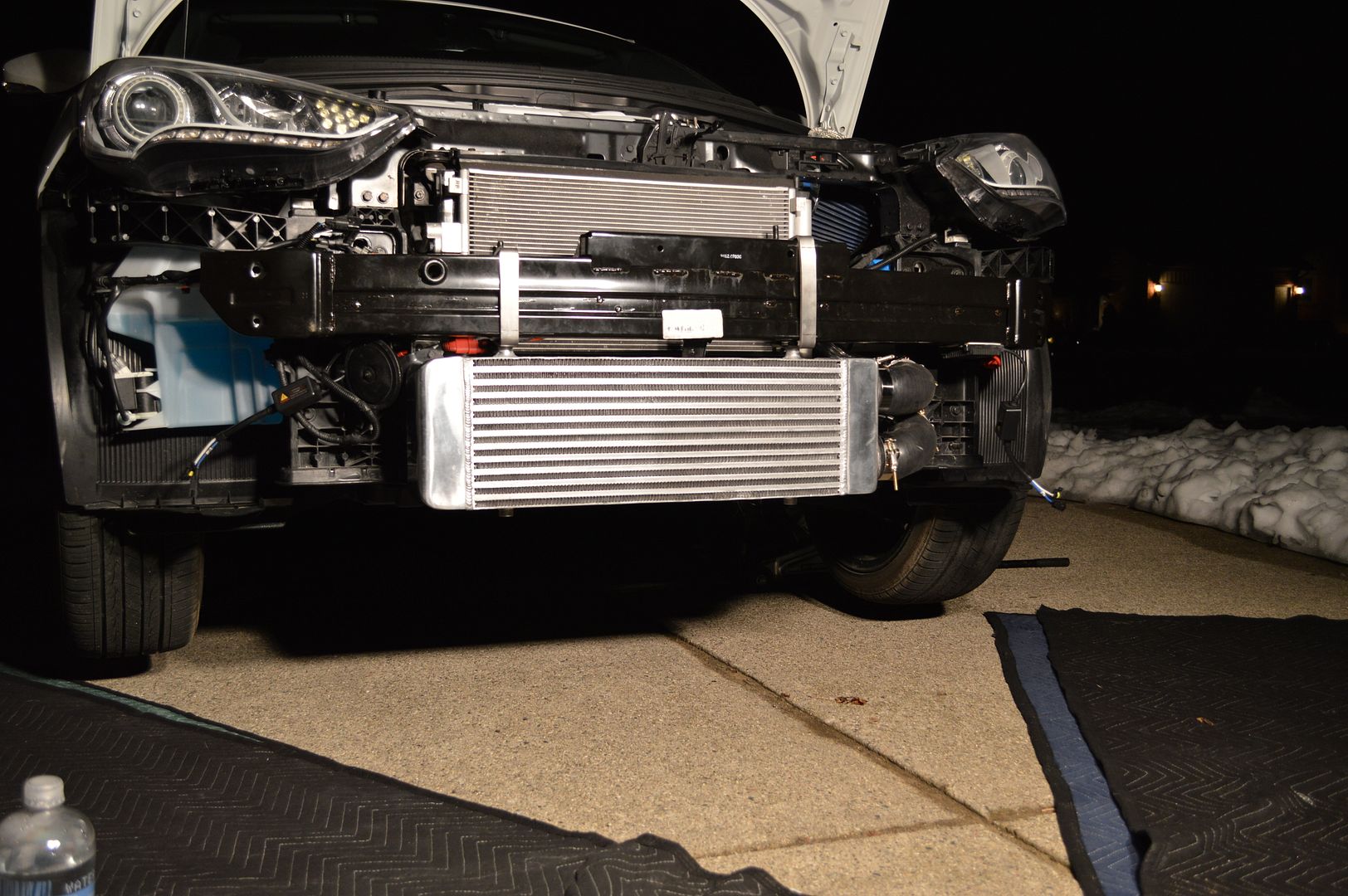 I then tried my hand at more plasti-dipping and had some fun and learned a lot. I need to go after the rocker panels some more since I ran out of the orange color, but here is the result of the dipping thus far: