Never wanted to do a build thread, but as im sitting here trying to remember what i did to this car up to now and where its going i figured it may be time to make one.. Ill try and upload pics as i go, i have to locate them all
This car has no name.
The car
:
The Motor
: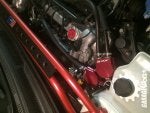 Custom Cold air/ram air/ intake using blox velosity stack 3" filter/ Heat wrapped my own special sexy way (Filter sits in stock IC location and had to use Pierce Motorsports crash bar to fit)
Dual Catch cans
Map vacuum adapter
845 FMIC Mandrel bent piping tork pipe delete in included ( I like how we call it tork pipe delete!!)
Hks BOV (real)
Custom exhaust
Big Daddy 02 elbow
Torque solutions shifter bushings
HKS M45xl plugs
Tork Tune 1.25
Engine dress up kit by Rad boltz
11.4lbs Lightened single mass Flywheel (Aasco)
Pierce Motorsport Clutch kit (6 puck Organic/Ceramic) 400 break tq and 1782 holding (Stock pressure plate)
Turbo Tuning Racing Engine mounts
Pierce Motorsports SS Braided Clutch line
6E shift bushings
The Suspension/Brakes
:
Ive spent a lot of time and money in this area. I didnt just slap on the parts... I had in corner balanced and aligned everytime i touch the suspension, which means i spent A LOT of money on ALignment stuff...
Ksport coilovers rebuilt by Feal suspension
Pierce Motorsports Rear camber kit- Camber set at -2.2 with less than .5 toe total
Caster on this car is slightly off and requires caster bushings which are a bitch to get.. So ive settled with the caster issue for now ( the rigid collars i feel are the reason we cant adjust the crossmember)
Pierce Motorsport Race strut bar
Pierce Motorsport Lower 2 point tie bar
Pierce Motorsport Front sway bar
Pierce Motorsport Rear torsion bar
Turbosocks rigid collars
Pierce Motorsport trunk tie bar (Built into rollcage)
Pierce Motorsport Steel braided Brake lines
Secret BBK kit using 4piston Brembos and 14" rotors
Speedbleeders
Brake ventilation ducting (custom)
Arp wheel studs
Motul Brake fluid
Wheels and Tires
:
2 sets of Konig Torch 18 x8 +35
Hankook Ventus evo2 235/40/18 for street
Hankook Rs3 for track
Inside the beast
:
Pierce Motorsports 4 point bolt in Rollcage with custom X brace and built in trunk bar
Cobra Suzuka seat
Schroth 6pt harness (hans)
Lifeline Fire system
Handheld Extinguisher
Weather tech floor mats
B&M short shifter
Ram laptop mount
Ram cell phone mount
Power converter
Escort Max radar detector
No rear seats in car
Frav door insulation kit
Full tint with front windshield strip
Exterior
:
KDM lights
Seibon CF Hood
Flush mount hood pins
Move over Racing Quick release front bumper kit
Weather tech rain guards
Custom rear valence cut out
Tippet rear reflector vents
Pierce Motorsport front crash bar
Pierce Motorsports rear crash bar
Custom anti sag system for front bumper ( just replacement brackets i made out of 1/8 steel to replace factory brackets)
Custom Brake ducting housings made from factory fog light
Hydro dipped Black marble Emblems
Socal Garageworks D style Carbon fiber spoiler
Socal Garageworks rear wiper delete